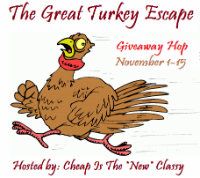 I would like to welcome you to The Great Turkey Escape Hop hosted by Cheap Is The *New* Classy! We have some super cool bloggers that came together to bring you this Thanksgiving themed giveaway hop! The Turkey made it's escape! This event will run until 11/15 which gives you plenty of time to enter all the other blogs for more chances to win fabulous prizes to give you a little something extra to be thankful for this holiday season! All of the prizes are worth at least $25!
They had me at cookie, or KuKee because it is pronounced the same and gives my tummy that same pleasure! This is no ordinary cookie either! KuKees are made with no preservatives, no hydrogenated oils, baked fresh with homemade love in each bite!
When I first received my box of KuKees, I was pleasantly surprised by the super cute box it came in. You could just tell that it was packaged with thought and care. The box was made with little drawers that slid out to house each cookie. And my Goodness were these cookies BIG! Each cookie weighs about 3 ounces and contains 3 grams of fiber. They are definitely filling but the best part is the taste. They are simply delicious! The flavors were so unique and blended together perfectly.
And now for your chance to win your very own box of KuKees!
Enter using the rafflecopter form below. You only have to do the first entry to win but the more you do, the better your chances of winning. It may take a few moments to load. Click on Do It for more instructions and then after you do it, click the green button. Make sure you read instructions carefully.
If you have any questions or problems, email Amanda at guideformoms AT yahoo DOT com.

A copy of the giveaway rules are below and on the rafflecopter form. Entering the giveaway means you have read and agree to the rules.
Good Luck and May the Odds Forever be in Your Favor!
a Rafflecopter giveaway