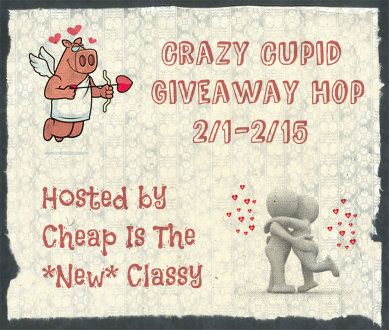 Welcome to Crazy Cupid Giveaway Hop hosted by Cheap is the New Classy! We wanted to celebrate this Valentines Day with some awesome bloggers giving away awesome prizes! Awesome, right?! This giveaway will run from February 1st to February 15th, this will give you PLENTY of time to hop through the linky below and enter ALL the awesome great giveaways.
What do we have for you today to win? Your very own Aqua Chef!
The Aqua Chef reminded me of a deep fryer but instead of cooking your food in fatty ole grease, you cook it in water! Such a

healthier way to cook your meals

!

Now I have to admit, I am somewhat of a kitchen gadget

junkie

,

I love neat gadgets that make cooking easier. And

how can you not love this?!
The Aqua Chef Smart Cooker turns ordinary foods in to extraordinary meals! The secret to this awesome device is that the food never comes in conta

ct

with air. It simpl

y

cooks the food evenly in its own natural juices. This awesome device not only allows you to cook a

healthier

meal but also one that taste better!
And it is so easy to work as well, I put a couple of chicken breasts into the

vacuum

sealed bags that Aqua Chef provided me with. I then added a bit of Italian dressing to marinate th

e

chicken and using the handy dandy handheld

vacuum

system, I sealed the bags right up! With these air tight bags the food will retain it

s

moisture, flavor and nutrients!
AquaChef Smart Cooker Benefits:
Precise & Consistent – Perfectly cooked meals every time!

Gourmet Taste & Texture – Intensifies and enhances flavors of food.

Maximizes Nutrient Retention & Flavor – Locks in food's natural flavors, nutrients and moisture.

Convenience – No Stirring, No Basting, No Watching. Just set it and walk away.

Easy to Use – One-touch control enables you to quickly set or adjust cooking temperature.

Foolproof Results – Never overcook a meal again!

Healthier – Cooks in water not fats or oils. Helpful for portion control and diets.

Saves Money – Turns tough, inexpensive cuts of meat, such as flank steak, brisket, or eye of round into tender, succulent cuts of meat like filet mignon.

Easy to Clean – No more messy pots and pans to scrub!
And there you have it, an easy healthy meal thanks to Aqua Chef!
Today you have a chance to win an Aqua Chef for your very own! Retailed at $39.95, this is a great appliance to add to your kitchen and used to stay on the health track!

Fill out the Rafflecopter form below and good luck!!
a Rafflecopter giveaway